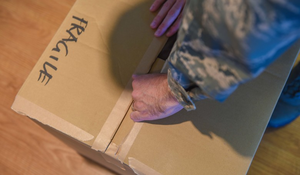 Tips to Keep Your Fragile Items Safe for a Move
Posted on Oct 10, 2017
We all know that feeling… all it takes is just one quick reaction to make a strong press on the breaks of your vehicle, and then all of a sudden, your TV and laptop in the back of the truck are crashing forward with the momentum. Your heart drops, the regret sinks in immediately, and then you begin to worry if anything is broken. Now is the time you realize that if you had packed your fragile items differently, you wouldn't be in this position of doubt.
That's where we, Braun Moving & Storage, come in! Packing breakable items can be overwhelming and also time-consuming. It is so important to pack them in such a way that they arrive to the new destination as good as new.
Take a look at some of the best methods that we recommend in packing your fragile items for moving. It will help you and your loved ones keep your possessions safe during the journey to this new destination.
1. First things first, classify what items are fragile.
The first thing you should do for a safe journey is to figure out what items you're going to take extra care for. We suggest making a list of all the unique types of delicate items, as you do a walk-through of your home. Another idea would be to store all fragile items in a flex room so you have a good idea of how many total fragile items will need to be treated with extra care. Some examples of fragile products include electronics, dishes, picture frames, and mirrors.
2. Use supplies that you already own.
It's not that you won't need bubble wrap, but you can definitely cut down on costs and waste for packing items by using items that are already in your possession. In another article we wrote, "Tips for Packing Clothing and Linens," we talked about how useful these fabrics are for packing! You can use blankets, pillows, and towels as cushioning inside a box for delicate and fragile items. One method is putting blankets on the bottom of a box, then the fragile item, then a pillow (or two) on top! And voilà – packed for safe-keeping!
3. Be extra careful even as your packing. Take your time and be methodical!
Just the process of packing can cause items to break, if you set your glasses on a table, they might be knocked off. Set aside a designated area in your home that will not be getting much foot traffic, maybe a flex room, spare room or your basement. A good idea might be to set everything on the floor to stabilize any falls and prevent the items from scratching your furniture. For comfort and extra protection, lay down a blanket and pillows in the area. Just don't trip!
4. Protective materials should be layered.
There are several materials you can use now, with a mix of linens, plastics, and papers, you should be all set. There are a lot of variations you can try but here are some ideas:
Wrap delicate products in packing paper or bubble wrap and put in a box. Fill the negative space in the box with packing peanuts or newspaper/magazines. But make sure the paper is crumbled, it will lessen the likelihood that the contents in the box will shift inside and break.
For large, flat items, like mirrors, consider malleable fabrics layered with sturdy materials. Wrap the item in a soft towel to protect the glass, then use a sturdy cardboard layer and repeat as many times as necessary.
Here's a List of Packing Materials:
Bubble wrap
Packing peanuts
Packing tape
Packing paper
Linens and bedding
Plastic, zipper-locked bags
Pliable cardboard
Scissors
Labels or permanent markers
New cardboard boxes, or the original product packaging
Plastic wrap
Hangers
Newspaper or magazines
Bungee cords
5.Methods of packing for certain items.
Dishes
All the variations in sizes and shapes for dishes can make packing a little difficult but follow these tips and you'll be golden. For bowls and plates, you can wrap each one individually in bubble wrap and then fasten it with tape. An important note here, when packing them in a box, organize them vertically. It is the safest way! Inside the box, put crumpled paper or more bubble wrap at the bottom and top. Another pro tip is to make sure you're not overpacking. Overpacking fragile items in one box could cause more damage from the weight.
As far as cups go, a method to keep them protected easily is using cardboard dividers that separate each one in the box. Of course, don't skip out on wrapping the cups with paper. You can stack them inside each other so that they save space. If you don't separate your breakables with paper or cloth, you run the risk of hairline cracks or more damage. For drinking glasses like wine and champagne, you have to extra careful. We recommend stuffing the glasses with paper and wrap them in bubble wrap, and lastly, use a cardboard divided box. If there is any wiggle room, that is a no-no. These glasses should fit very securely, so fill any empty space with paper.
Electronics
The most efficient method to packing electronics is just to use the original packaging it came in, as it was made for this! However, if you don't have access to the original box anymore, you'll need to put in a little bit more effort to ensure they are protected. For uniquely shaped electronics, like a TV, you'll want to get a box customized for that shape and plenty of bubble wrap. Wrap your TV up in a blanket when you're moving.
In the owners' manual of the product, there may be instructions for packing and moving. Always remove the batteries from devices because there is a good chance they will corrode after a while. On the same note, take out all cartridges, disks, and drives from other electronics.
We recommended using layers of bubble wrap in a cardboard box to wrap the product in. For all the wires and other accessories that go with that product, put them in a zip lock bag and label it well.
Mirrors, Frames, Artwork
For smaller frames and mirrors, wrap each one in packing paper and put in box with crumpled paper between each frame. You can do this vertically or stacked horizontally, depending on the sizes. The goal here is to make sure you don't have glass touching glass. If the item is on the larger side, wrap that item in a blanket and plastic wrap and store it separately.
Large, Uniquely Shaped Items
Wrap the whole item in bubble wrap and fasten with tape or bungee cord. Then sandwich it in between large pieces of malleable cardboard. Fasten the ends of the cardboard so that they touch and tape it up really well. There's no such thing as too much tape! Put the item in a lined box and label it "Fragile." That goes for all these items! This will help both you're but also our movers know to take extra care when handling your items.
Small Items and Figurines
You can use a plastic bin filled with shredded paper, an egg carton, or a box filled with bubble wrap. There's a lot of ways you can do this! Just always make sure they are lined properly inside the container with crumpled paper or bubble wrap.
6. No one will take care of your items as a professional would. It's our job to take care!
Unless you consider yourself a pro-mover, you will want to consider hiring professional movers, like Braun Moving & Storage. We will help you keep your delicate items as safe as possible while cutting down on time. We don't just grab and go with your boxes; we will take the time to pack all your items for you as well. At Braun, you can depend on us for getting the job done as carefully as possible. We have been in the business for years and offer dependable experience and the skills you can count on.
With these fragile packaging tips, there's no need to be concerned with items being damaged or broken during a move anymore. Here at Braun, we want you to have a quick and stress-free move! To learn more, contact Braun Moving and Storage today for a quote. We look forward to working with you!
---
Tags: Movers Near Me, Movers in CT, Furniture Distribution, Veterans Day, New Milford Moving Company, Movers in Danbury, Kiwanis Club, Storage, Moving Tips, Fairfield County Movers, Danbury Storage, Moving, CT Packers and Movers, Household Moving, Cleaning, Spring Cleaning, Stamford Movers, Connecticut Moving, Summer Moving, Moving Tip, Local Moving in Connecticut, AMSA, ProMover, Local Movers, CT Office Movers, International Relocation, International Movers, Moving Overseas, Long Distance Movers, Out of State Movers, Office Storage, Moving Company, Moving Companies in CT, Commercial Movers CT, FF&E, OS&E, Hire a Moving Company.
---
Back to Blogs