Household Storage
Braun Moving & Storage has the capacity and experience to safely store your household belongings.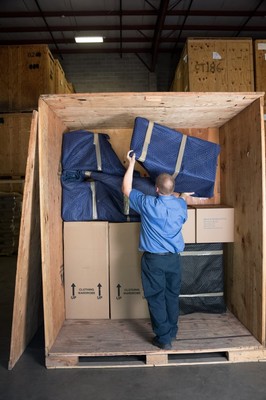 Household Storage
Whatever your storage needs, Braun has the solution.
Regardless of your needs - whether you need to store an entire home's worth of belongings, or just a few pieces - Braun Moving can handle your storage.
Braun's expansive 50,000 square foot warehouse allows us the flexibility to deal with a wide variety of customer requirements. Climate control, fire protection, and 24-hour surveillance help to assure you that your belongings will be safe and just as fresh as the day they were locked away.
Braun Storage presents the opportunity to work with a company that has the ability to service the entire Northeast, and maintains a staff comprised of local, experienced staff.
Pick-Up & Delivery Available
Braun's movers can pick up your belongings and safely transport them to our storage facility. While your goods are in storage, you're free to access your storage vault upon setting up an appointment. You can always add or remove items to your storage vault as well. When it comes time to move everything back out, we can deliver your belongings to your location. You may also opt to pick up your belongings at the warehouse.
When your belongings first get stored, they get added to our computer-based inventory management system. This allows us to quickly and easily locate your crate(s) within our storage facility. Just let us know when you need to gain access or have your stored articles delivered, and we'll get to work immediately. Braun Moving offers storage options that most self-storage companies cannot – all at competitive rates. Give us a call today to discuss your storage options!
Are You Ready For Your Free Storage Quote?
When you request a Household Storage Quote from Braun, we will provide an estimate for services based on the volume of your goods. Simply fill out the form at the top of this page and receive a Free Storage Quote. Contact Braun Moving & Storage at (800) 572-7176. Our friendly team will gladly explain all of our warehousing options available and can help you find the best space and duration package. A Braun Moving & Storage specialist is waiting to hear from you!
CT DOT License # C-119
Federal DOT License # 658578