General Moving FAQ's
When should I make an appointment for an initial evaluation of my move?
6-8 weeks before you move. The timeframe it will take to move you will also be determined at the evaluation.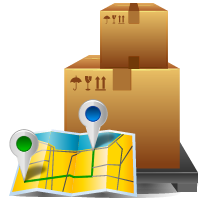 How long does the initial evaluation take?
Typically between 30 minutes and 2 hours, depending on the size of your home.
What should I do during the pack-up?
Be present during the packing of your belongings.
Take personal responsibility for all high value items.
Check and sign the inventory list.
Make sure that no prohibited items are packed. Ask your mover for a Customs sheet.
Am I protected under against loss or damage?
Under the terms of the Uniform Household Goods Bill of Lading (the receipt for your goods and part of the transporation documentation given to you by Braun Moving), you may choose from our "Full Value" plan or the "Basic" plan.
International Moving FAQ's
Can I bring my car to another country?
The import duty on cars in some countries is so outrageous that you may not want to import it. Others will have special regulations regarding emission controls or even have rigorous steam cleaning requirements. Inquire into the specific country you will be moving to.
Can I bring my pet(s)?
Plan this well in advance. Travel is often difficult for pets, however quarantine regulations can be the most difficult issue in some countries. Every country has its own regulations regarding the importation of pets (especially birds) so make arrangements well in advance.
Anything I absolutely cannot bring?
Of course drugs, alcohol, weapons, ammunition, and pornography.
Can I pack myself?
Sure, however, insurance companies will not pay out on goods packed by their owner. Also, Customs officials will almost certainly target goods that you have packed. If you must pack some of your goods, leave the carton unsealed.
How long will it take to move me to another country?
Freight: allow up to 14 days door-to-door, however remote areas may take longer.
By sea: Europe/USA - 4/6 weeks, Asia/USA - 6/8 weeks and Australia/USA - 8/12 weeks
What happens when my inventory arrives in the other country?
The destination agent chosen by your move will contact you as soon as your shipment arrives. The company will clear it through Customs, take care of the paperwork and make sure everything gets delivered to your new home. You may need to be present if your shipment is inspected by Customs. As soon as you arrive at your destination country, contact the appointed agent and make delivery arrangements.