Packing and Crating
One of our most unique packing services is the ability to pack and custom crate nearly any item.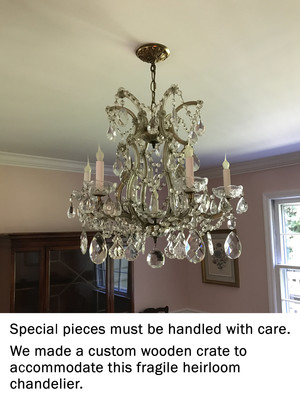 Packing & Custom Crating
Complete Packing & Custom Crating Solutions to meet your residential moving needs.
As professional movers for over 30 years, Braun Moving & Storage understands the need for customizable packing and crating services. That is why we build solid wooden crates at our facility specifically made to accomodate your item(s).
Tailored to meet your product transfer requirements, our expereienced team offers expert custom packing services as well as custom crating.
What Types of Items Need Custom Crating & Packing?
Any item that needs to be transfered with care -- whether a large fragile piece, or a family heirloom -- custom crates ensure the safety and protection of your item.
Items to consider custom crating and packing for:
Electronics - such as computers, IT equipment, and HD televisions all need to be snugly packed in order to avoid any damage.
Valuables - fine art, motorcycles; antiques, fixtures... whatever has value to a customer has value to us.
Fragile Items - from generations-old heirlooms, chandeliers, pianos, mirrors, stone tops, and glass
We treat all items like they are our own and promise the most meticulous custom crating. Once the crate is fabricated we will then hand pack the products one at a time and provide the appropriate fillers and padding to ensure no slipping or shifting occurs.
Ready For Your Free Quote?
And while our "Fragile-Only" Packing may involve several steps to guarantee the crating is up to our standards, receiving a free quote from us only takes one step! Never settle for anything less than the best when it comes to protecting your valuables during shipping. Call us or fill out the form today!
CT DOT License # C-119
Federal DOT License # 658578