Local Moving Company in CT
When it comes to your household move, let the expert movers at Braun Moving & Storage handle your relocation. We take special pride in moving household goods.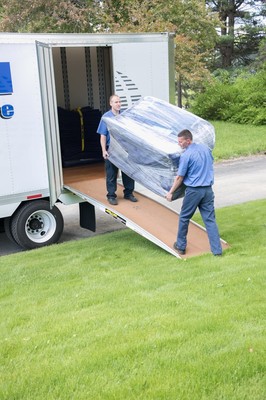 Residential Movers in CT
Braun has the history, experience, and resources needed to make your residential move a seamless success
When it comes to your household move, trust the experts at Braun Moving to handle your relocation. We have just as much passion today as we did over thirty years ago for what we do. Our simple three step moving process helps to ensure a flawless relocation of your family and their belongings.
Braun's 3-Step Moving Process
#1) Preparation
Preparing for a move with Braun couldn't be simpler! We provide free estimates per your request.

Upon booking, you will be assigned your very own relocation coordinator to walk you through the whole process from start to finish.
#2) Packing and Loading

Packing Day: If you require professional packing services, your Braun packers will arrive at an agreed-upon time to professionally pack your belongings to ensure everything remains safe and intact during transit.
Moving Day: Any furniture that needs to be dismantled will be taken apart by Braun's professional movers. All fabric pieces will be stretch-wrapped and padded to ensure its protection and freshness during the move. Your belongings will then be expertly loaded on to our modern, clean moving trucks.
#3) Delivery and Unpacking

Upon delivery, Braun's movers will take care to protect your new home. They will then unload your belongings to the destinations of your choosing. All furniture that was disassembled will now be reassembled by the moving team. Feel free to ask your personal relocation coordinator about our unpacking services.

Braun's Moving Services
At Braun, we are proud to perform household moves that meet the same level of quality - whether we are moving you across the street, across the state or across the world. Braun's team of movers are some of the best around and offer a variety of services. We perform the following types of household moving services:
Local (In-State) Moving - Choose Braun Moving and Storage to make your local move a breeze.


Out-of-State (Long Distance) Moving - Braun has over 30 years of experience handling out-of-state moves. Whether you are moving out of state, or even to another country, no move is too long for Braun Moving.


International Moving - Braun has an expert level international moving planning team. We'll coordinate all of the details - from belongings prepartion, to customs, timeframes, and related logistics - to make your move to another country as smooth as possible.


Corporate Relocation - We know how important your business and its belonings are. Let our corporate relocation team take care of the work for your business. Our experienced and friendly moving crews will handle everything carefully from start to finish.


Packing & Custom Crating - Our packing team can carefully pack all of your belongings safely and efficiently to ensure a safe move. We also have an in-house custom crating expert for any items, no matter how expensive or obscure, that require a custom housing for your move.
Ready For Your Free Moving Quote?
When you request a residential moving quote from Braun, we will provide an estimate for services that is tailored to fit your budget and specific needs. Simply fill out the form at the top of this page and receive a Free Moving Quote for your upcoming residential move. Contact your residential moving company of choice, Braun Moving & Storage, at (800) 572-7176 to discuss your upcoming move today!
CT DOT License # C-119
Federal DOT License # 658578