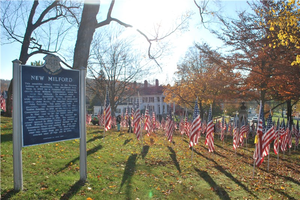 Celebrating Our Veterans and Securing a Better Tomorrow
Posted on Nov 14, 2016
Thomas Lawler - relocation consultant for Braun Moving Inc. and member of the Kiwanis Club of Greater Danbury - withdrew the American flags from Braun's storage and joined his fellow club members adjacent to the New Milford green on Saturday November 5, 2016.
Together, they set up what is known as the Flags of Valor. The display goes beyond being a show of support and appreciation for our veterans. Each flag was purchased and dedicated for thirty dollars, and while the Kiwanis Club does many beneficial things for communities nationwide, perhaps the most important work they do is for our future citizens. Kiwanis Club proceeds go towards funding scholarships for America's most promising young minds, ensuring our great nation has leaders for the foreseeable future.
Braun Moving Inc. is proud to call Tom one of our own, and will continue to support groups such as the Kiwanis Club who work towards the betterment of our nation. The flags come down December 3, 2016, so if you would like to take in the impressive scene, we encourage you to go soon!
---
Tags: Movers Near Me, Movers in CT, Furniture Distribution, Veterans Day, New Milford Moving Company, Movers in Danbury, Kiwanis Club, Storage, Moving Tips, Fairfield County Movers, Danbury Storage, Moving, CT Packers and Movers, Household Moving, Cleaning, Spring Cleaning, Stamford Movers, Connecticut Moving, Summer Moving, Moving Tip, Local Moving in Connecticut, AMSA, ProMover, Local Movers, CT Office Movers, International Relocation, International Movers, Moving Overseas, Long Distance Movers, Out of State Movers, Office Storage, Moving Company, Moving Companies in CT, Commercial Movers CT, FF&E, OS&E, Hire a Moving Company.
---
Back to Blogs