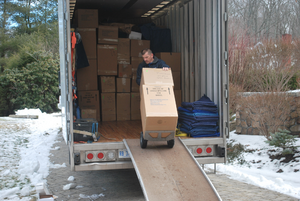 The Benefits of Hiring a Professional Moving Company
Posted on Jul 7, 2022
Moving can be an overwhelming experience, especially if you try to handle it all on your own. That's where hiring a professional moving company comes in. At Braun Moving & Storage, we understand the importance of making your move as smooth and stress-free as possible. Here are just a few of the benefits of choosing a professional moving company like us:
Expertise and experience: Our team of movers has years of experience in the industry, so you can trust that your belongings are in good hands. We have the knowledge and skills to safely and efficiently pack, load, and transport your items to your new home.

Proper equipment and resources: Moving can be physically demanding, and trying to do it yourself can lead to injury. Professional movers have the proper equipment, such as dollies, straps, and boxes, to ensure that your belongings are handled with care.

Stress-free packing: Packing up your entire home can be a daunting task, but professional movers can take care of it for you. We will carefully pack and label your items to make unpacking at your new home a breeze.

Time-saving: Moving can be time-consuming, especially if you have a full-time job or other responsibilities. By hiring a professional moving company, you can save time and focus on other important tasks.

Peace of mind: Choosing a reputable and reliable moving company can give you peace of mind knowing that your belongings are in good hands. At Braun Moving & Storage, we are fully licensed and insured to protect your belongings during the moving process.
Overall, hiring a professional moving company can make your move much easier. At Braun Moving & Storage, we are dedicated to providing top-notch service and making your move as seamless as possible. Contact us today to learn more about how we can help with your next move.
---
Tags: Movers Near Me, Movers in CT, Storage, Moving Tips, Fairfield County Movers, Moving, CT Packers and Movers, Household Moving, Stamford Movers, Connecticut Moving, Moving Tip, Local Moving in Connecticut, Local Movers, CT Office Movers, International Movers, Moving Overseas, Long Distance Movers, Out of State Movers, Moving Company, Moving Companies in CT, Hire a Moving Company.
---
Back to Blogs