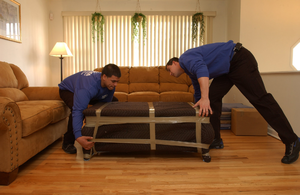 What Exactly Are White Glove Delivery Services?
Posted on Feb 6, 2020
White glove delivery has become a hot topic in the moving industry, however, not many really know what this service actually entails. White Glove Delivery is about going that extra mile to ensure a quality moving experience. It's about treating your family and your belongings as though they were our own.
When you picture white gloves, do you picture someone swiping their hand across a space to see how much dust there is? Or somebody carefully handling antique books with white gloves on? Ah yes, the perfectionist and meticulous way of dealing with your belongings is a good description of the white glove service. It is treating our customers' goods with a little extra care and respect.
Whether it is a heavy or big package that is hard to move, a delicate item that needs extra care for when moving, or a time-sensitive delivery that just requires a quick and reliable service… a white glove service is the answer you are looking for. At Braun Moving and Storage, we understand that whatever the items are that you are moving, it is of important significance to you and should be treated in a respectful and careful way.
Our drivers are trained in this field to have a "white glove" work ethic, so you can count on them to work efficiently and be dedicated to serving each and every customer equally. Braun's staff has many years of experience and is very knowledgeable in regards to problems that may arise and how to deal with any and all situations. When it comes to moving and storage, you don't have to worry, you can be stress-free knowing that your items will be carefully looked after and handled during the entire journey.
Here is What to Expect:
For furniture stores, antique stores, and retailers, Braun Moving & Storage provides white glove delivery. We will arrive at your place of business and take the item(s) that your client ordered and will carefully transfer, unpack, and situate your customers' belongings in their home or office. To keep your brand consistent, our employees and trucks can be outfitted with your business' logo and colors, as well. Listed below are just some of the luxuries you will enjoy with white glove delivery:
Removal of Old Items
Are you stuck with old inventory that you want to move out? Or don't have the time or means to empty the space before the move? No need to worry, we will remove any and all of the items that are no longer wanted, are heavy, or just simply in the way.
Blanket Wrap Delivery
If your product is delicate, antique, or can be easily scratched, we offer blanket wrap delivery. Our professional care will take responsible measurements to ensure the safety of your belongings, regardless of the size or fragility. When dealing with valuable and fragile items, our white glove service will blanket wrap for protection.
Delivery Up or Down Stairs
At every point during this move, we take extra-care to make sure you are not in stress. So yes, moving heavy objects up and down the stairs is a skill we have extra practice in.
Setup and Installation of Devices
The service doesn't end when the goods are dropped off, we actually will place the item wherever the customer requests. In addition, we can set up the product for use. This service is perfect for television or refrigerator installations.
Removal of Packaging Boxes/Supplies
We won't leave anything behind for you to dispose of, instead, we take care of any of the excess packaging and supplies and dispose of it correctly, so you don't need to take the time, spend the energy, or money in removing these large items.
What Products Require White Glove Services?
Products that should have white glove service are those that cannot be easily dropped off at the clients' doorstep. This means, large appliances, furniture, expensive electronics, and fragile items should be transferred with the white-glove service. The reason for this is because these are items that could be easily damaged or very costly if not handled with the utmost respect and attention during the move. For example, furniture can easily be scratched or tear on a hook in a doorway, or a refrigerator could be dropped causing it to no longer work. Our shippers consider every obstacle along the way and deliver on the promise of providing exactly what you need and making sure the items are in perfect condition.
So… what is the Price?
With all this being said, choosing to use our white glove treatment does not necessarily mean you have to pay the highest price. At Braun Moving & Storage, we give our customers the best service at a very competitive price, giving you the opportunity to relax knowing that your goods are in careful hands and will reach your destination quickly and without any harm done. Simply put, our white glove delivery service will make your move reliable and worry-free!
At Braun, every one of your orders is different, so there is no set price for white glove shipping. Instead, pricing is based on:
Location of the move. Pricing will depend on where the goods are coming from and also where they are going. In addition, the distance between our facility and the location will play a factor as well. This means locations that are closer together will cost less than deliveries made to locations hours away.
The area in the home or business. If the place of business is hard to navigate, and there are a lot of items that need to be removed, then you can expect the price to be higher. The location of the home for where the product will go will also affect the cost. For example, if there are multiple flights of stairs and difficult doorways that the movers have to get through, the price will increase.
The actual product. Rates also are calculated based on what the product is that is being moved, how much it weighs and it's shaped. If the product requires more labor or time, that will increase the cost as well.
GET A QUOTE!
Do you want the best quality service we have to offer for the delivery of your items? Our skilled personnel will treat you and your belongings with care throughout the entire operation. If you are ready to experience our white glove services, please call us at (800) 572-7176 or fill out our form for a free quote. We're happy to help you!
---
Tags: Furniture Distribution, Movers in Danbury, Storage, Danbury Storage, Moving, CT Packers and Movers, Household Moving, Cleaning, Spring Cleaning, Stamford Movers, Connecticut Moving, Local Moving in Connecticut, ProMover, CT Office Movers, International Relocation, International Movers, Long Distance Movers, Out of State Movers, Office Storage, Moving Company.
---
Back to Blogs