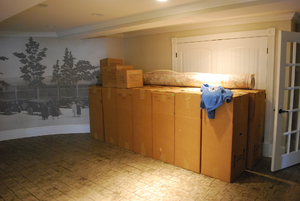 Quick and Efficient Packing Tips for Your Next Move
Posted on Jan 3, 2023
Proper packing is crucial for ensuring the safety of your belongings during a move. If you haven't started packing yet for your upcoming move, don't worry - Braun Moving & Storage is here to help! Here are some tips for packing quickly and efficiently to get ready for your moving day.
First, get rid of some of your stuff. You can save time packing by getting rid of items you don't need or want. Take a couple of hours to go through each room in your house and declutter by donating items to organizations like Goodwill or the Salvation Army.
Use items you already have in your home as packing supplies. Instead of spending time shopping for packing materials, be creative and use what you have on hand. Garbage bags can be used as wardrobe boxes for hanging clothes in your closet. Simply pull a garbage bag over about 6 or 7 hangers of clothes and tie them at the top. This creates an easy-to-move wardrobe box and allows you to pack your closet in just a few minutes.
Save time by using sweatshirts and blankets as protective filling for fragile items instead of packing them in their own box. You can also tape your dresser drawers shut to avoid the time-consuming task of emptying and packing your clothes. Utilize storage spaces, baskets, and other organizational items in your home to store smaller items.
Packing can be a stressful part of the moving process, but by being organized and taking a couple of hours to declutter, you can get it done quickly. If you need more packing tips, don't hesitate to give us a call. Our team at Braun Moving & Storage has experience with even the toughest packing jobs and we are happy to share our tips and techniques with you.
---
Tags: Movers in Danbury, Moving Tips, Fairfield County Movers, CT Packers and Movers.
---
Back to Blogs