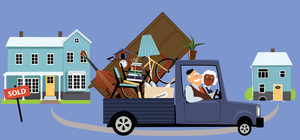 Tips for downsizing after moving to a smaller home
Posted on May 3, 2022
Tips for downsizing after moving to a smaller home
For some people, living in a big house is essential because there is more space for all your family's activities, and of course, extra storage is always a plus. However, for other people, living large is more of a hassle than a luxury. The cost and energy needed to maintain a big home can sometimes be a bigger expense than anticipated. In a survey done by Trulia, 60.6% of people currently living in homes larger than 2,000 square feet, said they would rather live in a smaller home than the one they're living in now.
Downsizing into a smaller home can be a great idea, both financially and mentally, for a lot of people. After all, the lower your square footage is, the lower your utility bills are and the less space that you have to clean and maintain. However, the actual journey of downsizing into a smaller house can be even more difficult than just a regular move because it can require a lot more planning. For this reason, Braun Moving & Storage has gathered a few tips to keep in mind during your move to downsize.
1. Create an inventory of your stuff
This is super important if you are downsizing to a smaller house. Sort through all of your belongings and make those hard decisions on what you should or shouldn't bring to your next home. For the items that don't make the cut, donate them, or sell them on online marketplaces like Facebook or Craigslist. It also might be a good idea to send an email to your family and friends of the items you have and ask that they come by to pick up anything they want. The last option is to simply dispose of those items.
We know you probably have a lot of stuff, and that's okay! Don't feel like you have to do it all in one day or even one weekend. To make things seem less overwhelming, take it one room or category at a time, and at whatever pace works for you! We recommend time blocking at least 1-2 hours every other morning to take on some tasks, and for the long hours put in over the weekend, treat yourself to something special for your hard work!
Keep in mind throughout this process that to do a thorough job in downsizing your possessions, you must separate your wants from your needs. At the end of the day, it's just stuff. It's probably not the actual item that forms the attachment, but the memory associated with it.
2. Don't duplicate
You're probably thinking, I don't have any duplicate items! Look again. The kitchen is a jackpot for duplicate items, and for this reason, a great place to downsize. You do not need multiple sets of silverware or seven different spatulas. The fewer dishes you have, the less clutter in your sink there will be when it's time to clean them.
Another good place to look is your pantry and spice cabinet. Get rid of any food or spices that have expired or were just simply never used. We guarantee there's a lot more than you think!
3. Give things away for free
Odds are, some of your items might not be worth the trouble of trying to sell them. If your neighborhood allows, put them on the sidewalk with a sign that says the items are free. You'd be surprised how many people spend the weekends shopping for other people's used treasures! You might wake up the next day to find everything that has been taken. Think, knick-knacks, furniture, books, and cabinets. The relief you'll feel when you see how uncluttered your home is will be worth it!
4. Storage space is there for a reason
With each day that passes, we begin to realize how much more storage space we need for all of our belongings. When you have places, you can use, use that space very wisely! Under your bed, built-in shelves, inside ottomans, and attics are great places to maximize and conceal storage in a small space.
Compact spaces can easily feel cluttered and messy without a good organization. The most effective storage options for small homes are cabinets and shelving, which provide open and closed storage for all your possessions.
A great tip to utilize in small spaces is to store vertically. For optimal storage, think tall vanities in a small bathroom or a tall dresser instead of a short one that will take up valuable floor space in a tight bedroom. Going vertical will make your space feel bigger than it actually is!
5. Sell your stuff
We've all heard the saying before, and it still rings true, "One person's trash is another person's treasure." Everybody loves a good garage sale! If you have more than enough items you want to get rid of, you should definitely try selling them all to your community. Items that typically do well at yard sales are furniture, clothing, children's toys, and power tools.
After it's all over, you can go online and sell. There are a lot of options now to choose from, including the classics like eBay and Craigslist, but there are a few other sites you might want to try out:
Facebook Marketplace: Sell to your friends and people in your community!
Poshmark: Specifically used for clothing, shoes, accessories, and even beauty products.
Etsy: Have vintage or handmade items you need to sell? This is worth checking out!
Nextdoor: An actual online community just for your neighborhood; it has community events too.
Decluttr: Great for your electronics! Such as iPads, Kindles, CDs, and DVDs.
6. Begin adding your items into your new space
It can be a freeing feeling when you finally get rid of all of those things you don't need anymore, but be careful not to get rid of things you actually might need. Don't toss out those winter clothes just yet…you might regret it when you spontaneously decide to go on a ski trip. A method to prevent this is by filling up the closets in your new space with the best of your things, such as clothing, shoes, and towels. After this, if you find that any items you couldn't fit in are in not so good condition, you can downsize your stuff even more.
Follow the same rules for all areas of your home by only storing your belongings with the greatest quality. Which books are your favorites? What tools work the best? And answer the question if you have enough storage for all of them.
7. Measure, measure, measure!
A very tricky thing to keep in mind when you are downsizing homes is to consider that your furniture might need to be downsized as well. You may not have enough room to fit all of your furniture into the new space, or you may find that your furniture might be too large for the space, as well. Make sure to measure your items before you move and plan out where you want to put them in your space. This will give you a better idea of what items you might need to get rid of or replace. Hopefully, this tip will help eliminate the struggle of moving your heavy couch into the living room only to find out that it doesn't fit – we've all done it before!
All in all, the idea of moving into a smaller house can seem overwhelming, but if you take the time to prepare and follow our tips, it should be easy breezy! We hope you will love all the great things that will come from downsizing. The simpler life really can be better! It can save you stress, money, and time…but most importantly gives you the freedom to let go of material possessions and live the fullest life you can with less.
Are you planning on downsizing? Give Braun Moving & Storage a call to help you in the process. Have you downsized before? Share your tips with us!
---
Tags: Movers Near Me, Movers in CT, Moving Tip, Long Distance Movers.
---
Back to Blogs