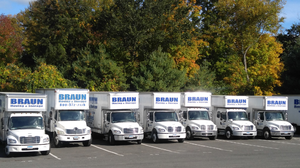 Serving Fairfield County | Your Choice Movers Braun Moving and Storage
Posted on Sep 9, 2019
"Fairfield County Movers handling more than 1,500 moves annually."
When you need to find Fairfield County movers who can complete your move efficiently, professionally, and affordably, look no further than Braun Moving and Storage. We are the go-to movers of Fairfield, trusted by many of the 59,000 residents that live here. In fact, every year we have moved about 1,500 people in and out of Fairfield County alone! We are committed to making your move simple and hassle-free with our expert moving and storage services.
Our dedicated commitment to customer service and our wide range of moving and storage services is one of the many reasons why Braun Moving and Storage stands out from other Fairfield moving companies. Whether you're planning a local, intrastate, interstate, or international move, we have the knowledge and experience needed to make your move simple.
Our extensive moving services include:
Thinking about moving to Fairfield County, Connecticut? Here is a little about this little haven we call like to call 'home'.
Fairfield County is the place where the country meets the city! This sophisticated area of Connecticut will have you appreciating big backyards, amazing school districts for your children, gorgeous and easily accessible beaches, and all while still being close to the city!
Did you know Southern Connecticut contains a few of the wealthiest communities in the country? Fairfield County in particular has recently become a popular spot for big corporations to set up shop, like investment management firms and hedge funds like Bridgewater Associates and SAC Capital Advisors. This location even has it's own "Gold Coast" that runs along the Long Island Sound – this area is beautiful and there's so much to do!
From Stamford to Westport, and Greenwich to New Canaan, you'll come across plenty of high-end shopping centers with unique finds, classic antiques rich with history, and delicious and stylish dining experiences. Enjoy all the history the area has to offer by diving into its many museums, such as the Stamford Museum and Nature Center, as well as the Barnum Museum, and the Housatonic Museum of Art. Arts and culture is something Connecticut is not lacking in! Another option for quality family time would be to take the day to visit the Tony award-winning Westport Country Playhouse, or Beardsley Zoo in Bridgeport, or the Maritime Aquarium in Norwalk.
But don't stay inside all day! The natural landscape of Connecticut is gorgeous. Many people who visit here and also those who live here, head to the beaches often, and live an active lifestyle, participating in numerous activities outdoors and water sports every day of the year. There is mountain biking, sailing, waterfall trails, ziplining, rock climbing, and lots of fishing! The options are endless.
Some Quick Statistics About Fairfield:
Population: 950,100
Major Industries: Financial services, Health care
Gross Metro Product: $73.5 B
Median Household Income: $94,210
Median Home Price: $452,000
Unemployment: 4.3%
Job Growth (2017): -0.9%
Cost of Living: 32% above national avg
Net Migration (2017): -520
Projected Annual Job Growth: 0.4%
Household Income Growth: 3.1%
High-Tech Employment: 2.6%
Home Price Change: 4.3%
Housing Affordability: 135
High School Attainment: 89%
College Attainment: 47.1%
Graduate Degrees: 21.2%
Average Commute: 32 minutes
Crimes per 100,000 Residents: 1,693
Average Days Above 90ºF: 6 (national average: 37)
Average Days Below 32ºF: 102 (national average: 88)
Forbes Lists:
#165 Best Places for Business and Careers
#193 in Cost of Doing Business
#175 in Job Growth
#10 in Education
Sources: Moody's Analytics; Sperling's Best Places; U.S. Census.

a - Value of 100 means that a family with the median income has exactly enough income to qualify for a typical mortgage on a median-priced single-family home. An index above 100 signifies that the family has surplus income.
So, in conclusion, if you are looking to move to or from Fairfield County, we would love to be of assistance to you by making sure your belongings arrive safe and sound. We are trusted by the community because we treat you like family!
GET A FREE QUOTE FOR YOUR UPCOMING MOVE AND FILL OUT THE FORM ON THIS PAGE NOW! Contact your Fairfield moving company of choice, Braun Moving & Storage, at 203-426-2394 to discuss your upcoming local, intrastate, interstate or international move today! We are proud to be Fairfield movers serving the entire state of Connecticut for every relocation and storage need.
---
Tags: Movers Near Me, Movers in CT, Fairfield County Movers, Household Moving, Hire a Moving Company.
---
Back to Blogs