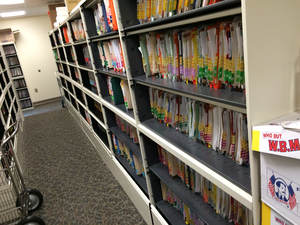 Record Management in Hartford
Posted on Apr 20, 2010
One often under-looked service available to businesses is records management. Hartford records management can help free up space and increase efficiency in the workplace. By putting some of your documents in storage that is highly organized and bar-coded can make offsite storage very accommodating and quickly and easily accessible. Take advantage of 50,000 Square Feet of Space, Inventory Management System, Fire, and Theft Protection Systems, Camera Surveillance, Pickup and Delivery of Boxes and Product, and Short- and Long-Term Storage for your business.
At Braun's state-of-the-art facility you receive top-notch service from everything to medical records to financial documents and anything in between. We offer a highly competitive price and high-end customer service. This service helps business streamline their business by removing a lot of leg work of classifying, organizing, and storing documents in a safe secure place. This is a great way to have confidential or sensitive materials as it is off-site and in a very secure location. Find great records management near Danbury and Hartford at Braun Moving & Storage.
---
Tags: Movers in CT, Movers in Danbury, Fairfield County Movers, Danbury Storage, Connecticut Moving, Local Movers.
---
Back to Blogs