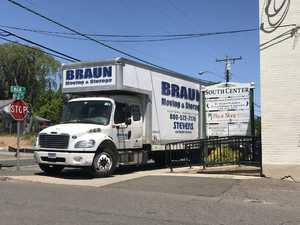 How do I find a trustworthy moving company?
Posted on Dec 14, 2018
It's time for one of the most stressful events you'll ever encounter in your life and you might experience it more than a once or twice. MOVING! The cost and planning involved in moving can be overwhelming for many. Boxing up all your belongings and making sure they will be safe during the move can take a lot of time. Perhaps you're packing away a china set you got as a wedding gift. Maybe grandmas' porcelain figurines handed down you. Or your old and very expensive antique dining room set along with priceless yet breakable family heirlooms. These are items that you don't even like to handle yourself let alone some strangers with a truck. Oh, and you need all this stuff moved several states away.
So how do you know if a moving company is trustworthy and which moving companies will do a long distance move?
One of the first things you can do before you start researching movers is to ask a friend or neighbor for a good reference. This way you find a great mover and from sources, you can trust. Now let's find a mover that can take you farther than in-town. Start with the AMSA (American Moving & Storage Association). The AMSA has over 3500 members and they have a tool on their website you can enter information in about your move. Then they will get you a referral to a certified, licensed and insured moving company. You can have up to four movers contact you and give you an in-home or virtual estimate. They can also provide quotes and comparisons with other moving companies.
We recommend using the AMSA website as a one-stop shop to getting a mover you can trust and will take you anywhere in the US you want to go. If you choose not to use the AMSA website there are other ways you can check the trustworthiness of a moving company. Lucky for you most states have regulations in place to protect the consumer and if you are moving out of state there are federal regulations moving companies must adhere to.
Let's start with some of the basics or ("Non-Negotiables) we like to say. Non-Negotiables are requirements that all movers must meet.
Never get a quote over the phone. Most reputable movers will do an in-home estimate. Always get a written estimate of the total costs of the move and get a written contract before any service is performed. It is best to get at least three written estimates from different moving companies. This will help you figure out cost and written estimates can help protect you from "Hostage Move Scams". Where once they reach the final destination they jack the price up on you. If you refuse to pay they will hold your belongings hostage until you do pay.
Always verify that a mover is licensed. Get the movers business address and see how long they have been in business or if there are any complaints filed against them. You can check the BBB (Better Business Bureau) for complaints. You can also lookup complaints through the FMCSA (Federal Motor Carrier Safety Administration). The FMCSA federally regulates moving companies and protects the consumer when doing interstate moves. Moving companies are required by FMCSA to have a DOT Number for interstate moves. You can also check a moving companies carrier number on the FMCSA as well.
Make sure the mover has insurance and gets any limitations of liability in writing. Try the ProMover program on the AMSA website. The AMSA subjects the moving company to a background check and helps take the hassle out of finding a reputable mover. Basic insurance will usually run you about $0.30 to $0.60 per pound of all items being moved. The FMCSA website can help give you detailed information about the different insurance types and what they cover.
Be careful if a moving company asks for a large deposit. It should be around 20% of the total cost written in your estimate. Pay any deposits or fees with a credit card if possible so you can contest the charge if anything happens.
If you have any complaints file them with the Better Business Bureau. If it is an Interstate move, file a complaint with the Federal Motor Carrier Safety Administration. If you were referred or if the company is a member of the American Moving and Storage Association you can file a complaint with them as well. Also, check with your state or local consumer protection agencies if you need to file a complaint as they may be able to help you as well. You can find your state or local agency at https://www.usa.gov/state-consumer.
Here are the links to the websites mentioned in this article:
AMSA: www.moving.org
FMCSA: www.fmcsa.dot.gov
State and Local Consumer Protection: https://www.usa.gov/state-consumer
Better Business Bureau: www.bbb.org
---
Tags: Movers in CT, Moving Tips, CT Packers and Movers, Household Moving, Hire a Moving Company.
---
Back to Blogs