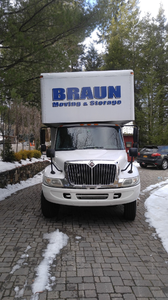 7 Things You Need to Know When Choosing a Long Distance Residential Moving Company
Posted on May 3, 2021
If you are preparing to make a residential move, you're likely not the only one. It's estimated that over 35 million Americans move every year. Of those, most movers stay in the same state. In most cases, those making a move are doing so to relocate to a better home. But others are looking to set up their own household or are moving for various other family-related reasons. But when people move long distance, it tends to be for job-related reasons or to make a new start somewhere else.
Making a move, regardless of distance, can be considerably stressful and time-consuming. Add long distance to the mix, and it can be enough to push you over the edge. Thankfully, there are professional moving organizations all over the country that can help make a long-distance move more relaxed and as painless as possible.
Quick tips for getting ready for your long-distance residential move
To make the long-distance move process as easy as possible, there are some things you should do as soon as you find out you will be making a move.
Make a plan – Create your own moving checklist and have it with you so that you can add to it at any time that you have one of those breakthrough ideas or eureka moments.
Stay on schedule – Don't leave all planning and packing towards the end. This will simply make your move more stressful than it needs to be.
Get multiple moving estimates – Even though you may find a highly recommended company that feels right from the first conversation, be sure to get at least one other estimate. A best practice is to talk to at least two or three moving companies before making your final decision.
What to consider when choosing a long-distance moving company
If you are preparing for a long-distance move, it is highly likely that you will need to hire a moving company to help you get all of your belongings from point A to point B. But this can be a very stressful endeavor. After all, you will be entrusting people you don't know with all of your precious possessions. But, considering how much work is involved in the move, this is an expense you will likely want to take on.
There's a lot to be said for the relief and stress reduction that comes with passing off the responsibility. Professional movers take the heavy lifting off your hands, and they also make your entire moving process run smoother so that you can focus on homeowner specific needs such as utility connections, transferring your bank accounts, and more.
When considering the right long-distance moving partner for you, be sure to consider the following points:
Word of mouth advertising – If you are moving long-distance, it is highly likely that you know others who have made similar moves in the past. Be sure to ask your friends and loved ones who have undergone similar situations about what company they used and why. Word of mouth advertising or direct recommendations from others should be highly considered when selecting a moving company. And make sure you ask more than one person. One of your acquaintances has likely had a bad experience with an otherwise well-known and well-rated company. Perhaps they were hit with unexpected fees, or perhaps a precious possession was damaged during the move. On the other hand, you may find that someone you know had an excellent experience with a relatively new company or one that doesn't so much marketing or advertising. Taking time to ask others for their opinions will provide you with a wealth of information that you can't get online.
Ratings and reviews – While direct referrals such as what we suggested above are very important, that doesn't mean that you should completely ignore ratings and reviews that you see online. Be sure to check the website of any moving company that you are considering, and review ratings that might have been posted on Facebook, Google, or other social media channels. You may also want to check the Better Business Bureau website to see if any concerns have been logged about the company you are considering.
Licensing and insurance – It is highly discoursed to use a moving company that doesn't have the proper licensing and insurance. Anyone can go out and buy a truck and call themselves a mover. But if they are not licensed and insured, it means that your property is not insured during transportation from your old home to your new one. For interstate moves (out of state moves), movers must. be registered with the U.S. Department of Transportation (USDOT). At this point, they are then given a unique USDOT number. If you would like to determine if a company you are considering has a valid DOT number, you just need to conduct a search on this database which has been created by the Federal Motor Carrier Safety Administration. A mover who moves within the same state (intrastate movers) must follow certain licensing requirements as well.
Beware of fraud – As we mentioned above, just about anyone can go out and get a truck and then call themselves a mover. While millions of people move each and every year, and only a small percentage of them ever experience moving company fraud, it's not completely unheard of. You should take the time to confirm that any moving company you are interviewing is legitimate. Check that they have an active license (using the guidance provided above), look up their service records, and make sure they have a valid physical address (and not just a post office box). You will also want to think twice about any mover that asks for a deposit. Know that competition is fierce in the moving industry so you should have more than enough reputable moving companies to choose from.
Transparency in rates – For any moving company that you choose to interview, make sure that they are transparent in their rates. Hidden fees should be a red flag. When you contact a moving service to book assistance, you will be provided a rate based on the number of hours and number of physical movers (people) you'll need. However, this initial rate is a base rate, and it doesn't include the costs for additional packing materials that you may need. Initial rates might also not include higher fees to move large, heavy, or otherwise bulky objects, or other incidental add-ons. Moving companies can't give you a definitive estimate on the phone. So, be sure you understand that the quote is not definitive, and is directional only, assuming you have provided accurate information.
Right size your mover to your needs – Every residential move is a bit different. So, make sure that whoever you hire can accommodate your unique situation. It is acceptable and advisable to ask the right questions to make sure that your mover can meet those unique needs. First, make sure that the mover has a truck that will properly fit the furniture and boxes that you need it to hold. You will also want to ensure that the mover can provide the additional packing materials you may need to keep your items safe, such as moving blankets, garment boxes, bubble wrap and protective materials, etc. And finally, make sure that the mover is available in the defined time window that works for your specific needs and will guarantee pickup and delivery dates and times.
Conduct the final interview – You can ask your potential moving company as many questions as you want. And, reputable companies will be used to this and will not rush you through the process. If you have selected a few moving companies (you should ideally check with at least two or three) and would like to work with them, an informal interview will help you determine who your final choice should be. You can also get a glimpse of their customer service practices by asking those questions. If a mover responds in an awkward manner or something just doesn't feel right, you should take this as an indication of how the actual moving experience will go. If you aren't sure what questions you should ask, then just ask them to tell you about their experience and use the above-mentioned considerations to help you draw out your questions.
Take time to do your homework before hiring a long-distance residential moving company
Before hiring any company, do your homework, ask questions, and do not think twice to look elsewhere if a moving company raises any hackles for you or makes you feel at all uncomfortable. You want to hire a moving company that has a proven history of safety, dependability, and high quality of service.
Though your move may only take a few days, a lot of things can go wrong in that short period of time. And, if you haven't done your homework, you'll know it because that stress that should go away when you have hired the right company will linger instead. The more effort you put into choosing the right moving company, then the less work you will have to put forth in dealing with potential mishaps.
---
Tags: Movers Near Me, Movers in CT, Moving, Moving Companies in CT, Hire a Moving Company.
---
Back to Blogs