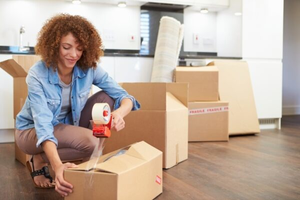 Tips for Packing Clothes and Linens for a Move
Posted on Oct 13, 2021
When you are moving locations, one hurdle to overcome is planning how you're going to move all of those linens and clothes from your drawers and closets to your new location.
Some of the main concerns we see with moving clothes and linens is how to pack it in a way so that your clothes don't get all wrinkly, your linens remain as clean and protected as possible, and everything stays organized so you can easily find what you're looking for after the big move. These concerns might be enough of a cause to make you want to have professional movers (like Braun Moving & Storage) to just take care of it just for you.
But, alas, if you are up for the challenge of packing your own linens and clothes, there are smart and efficient ways of completing this task. We compiled some advice that ensures this process will go as smoothly as possible.
First, decide which clothes and linens are going with you.
Preparation is key! If you want a stress-free unpacking experience, we suggest you begin sorting through your clothes and linens well before the day of the move.
So, how should you start?
1. The rule is if you don't need it, don't bring it!
Consider not packing any of the of the following:
Clothes that don't fit you or your children anymore.
Articles you won't need because of change of weather conditions or lifestyle.
Clothes/linens that are out of style or too worn.
Articles you never wear or use.
Excess amounts of linens remember you don't need it all.
Now that you have the unwanted items sorted, here's what you should do with it.
There are so many options now, but the one tried-and-true method of getting rid of junk is a garage sale. These can be a pain to have, so only do this if it will be worth it and you live in a location that has a lot of walking or drive by traffic.
You can also sell items on apps like Poshmark, Swip Swap groups in Facebook, and Facebook Marketplace, or you can head to a shop like Plato's Closet or your local consignment store that will pay you for your clothes. Who doesn't want to make a little extra cash during a move?!
If you are not interested in making a profit from these items, you can always donate it to your favorite charity. Often times, local pet adoption centers are always in need of old towels and blankets, so this may be a good option to dump those linens that are a little too worn.
If the clothes and linens are heavily soiled or damaged, you can just throw it out. Or an even better option would be to keep these items for packing up breakable items during your move.
2. Don't forget that you need to wear clothes the day of the move…
You'd be surprised how many people forget this! Pull an outfit aside (or a few aside if your trip is long) that you will wear on the big day in a personal suitcase that will travel with you. Also pack something for weather changes, in case anything happens.
Pack some towels, sheets, underwear, and pajamas for the first night of the move in your new home. Keep in mind, some moves take more than a day, so be prepared by organizing everything in your personal suitcase.
Now, actually pack your clothes and linens.
Here are a few tips and tricks to keep these articles wrinkle free and organized.
1. Don't take clothes out of the dresser.
This isn't always possible, but if your moving time is short, or you have lighter items in your dresser, you should be able to transfer it without taking everything out.
2. Purchase or borrow wardrobe boxes to hang your clothes.
These are those tall boxes you see during a move… the good ones have a hanging rack at the top and are the best way to make sure your clothes don't get wrinkled. It is also super easy to take your existing clothes on hangers and just hang them right in here.
3. Use extra suitcases instead of boxes.
If you're already moving your travels bags, why not pack them with items? A drawback here is that you might want to use wheeled suitcases to move heavy items, so be strategically think about what you should use your luggage with wheels for.
4. Put clothes and linens in garbage, plastic wraps, and vacuum bags.
Super easy, malleable, and lightweight, garbage bags can be used to pack your clothes. Either fold them and pack them in or keep them hanging. To do this, cut a hole in the bottom of the bag and pull hangers through the hole. Then just a tie a knot on the bottom and tie the hangers together at the top. This will also keep your hangers in order, so they are easier to move & take up less space. You can similarly use plastic wraps for this as well, and they are more durable than garbage bags.
Or you can use vacuum sealed bags, which we recommend because they can take up less space and hold more clothes. You can usually purchase these at your local Walmart or Target.
5. Double whammy, wrap your clothes in linens!
Linens are easy to carry and are not slippery, just spread a sheet on a bed and start placing clothes in the middle, work your way from big to small items, then roll it like a burrito or fold the sheet over. Make sure to fasten it closed with a tie.
6. Use clothing and linens to wrap fragile items in.
Items that can easily break, such as dishes or picture frames, can be wrapped in clothing and linens. Bubble wrap can be costly, so save where you can. A recommendation would be to start saving bubble wrap from your Amazon orders a couple months in advance. High socks and shoes are great too for small items you can fit inside.
7. Regular boxes can be used.
Normal cardboard boxes are great for keeping things organized and protected. You can usually go to your local grocery or liquor store and request the empty boxes they plan to recycle FOR FREE! Another place to ask for recycled boxes is a fast food restaurant, like Chick Fil A or McDonalds. They are almost always willing to give you the boxes they plan to toss. Don't forget to label each box with the contents inside, such as:
What room it belongs in and who it belongs to
What season the item is for
The type of clothes and linens (towels, sheets, jackets, pants, etc.)
8. Shoes are dirty, keep them separate from your clothes.
A few ideas for packing shoes would be to store them in shoeboxes or plastic bags. Start saving boxes up a few months before your move! If the shoe can be deformed easily, stuff the shoe with socks so they keep their shape. Changing which way your shoes sit can also save space, experiment with alternating their positions.
There are a couple of other ideas to consider as you pack that will keep linens and clothes damage free and organized when moving. Here are extra tips for packing clothing and linens:
Jewelry can snag at your clothes or on other jewelry, keep them separated and protected from each other.
Clean all your clothes and linens before you pack, and make sure they are completely dry. Mildew and odor are hard to get rid of.
For any delicate clothing, put them in protective laundry bags or just separate them with cloths or other linens.
To prevent hats from bending, stack them on each other and put them in separate boxes.
Always work from the biggest and heaviest to smallest and lightest. Heavy items go on the bottom and light items goes on top.
Out of season clothes that will be packed away for a while can be sprayed with insect repellent that is safe for fabrics.
If a box is really heavy, there is a chance it may fall apart. To prevent this, just place it inside another box or double tape the seams.
We hope this has helped you plan for your move and has given you lots of ideas on how to pack your linens and clothes efficiently. As always, if you need help or have questions, Braun Moving and Storage has the answers. We would love to help you on your next move!
---
Tags: Movers Near Me, Moving Tips, Moving.
---
Back to Blogs