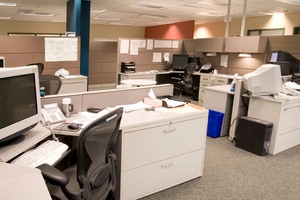 Office Moving Around Danbury
Posted on Aug 9, 2012
Moving your office is no small feat. It is an incredibly complex series of events that need to take place and should be planned very well to minimize downtime. Less downtime means less money lost because we all know that time is money these days. Our Danbury office movers can handle small to large corporate offices and everything in between. We can also move you to a different part of the same building or to another county if needed. No matter how complex your move might seem, Braun Moving and Storage has the logistics team to make it happen seamlessly and with as little impact on the business as possible.
Moving office equipment should be a delicate process as most offices have computers, electronics, desks, files cabinets, etc; all large, heavy, and some delicate items. Our moving crews all have special training on moving common office items and not so common items such as large servers, medical and lab equipment, libraries, and much more.
Give us a call today and see how Braun Moving and Storage can make your office move much easier and less stressful for you.
---
Tags: Movers in Danbury, Danbury Storage, Local Movers, CT Office Movers.
---
Back to Blogs