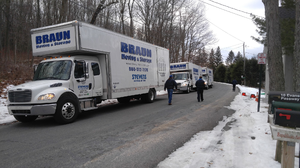 Moving in Winter Can Be Smooth as Ice with These Tips
Posted on Feb 2, 2013
Snow is starting to make its grand appearance this year.
Whether you like snow or not, it can certainly make things more difficult.
Moving during the winter may seem like a daunting task, but if you prepare correctly it is actually advantageous.
Danbury movers, Braun Moving, have decades of experience moving people to and from Connecticut and New York. They are sharing some of their expertise with these tips:
Have an eye on the sky…literally. Weather can change rapidly and you want to be as prepared as possible. It is also a good idea to have salt on hand to help with any slick spots. This will make moving easier and safer.
Keep your winter clothes separate from the other clothing items. You don't want to be facing a blizzard with your coat and gloves at the bottom of a box.
Prep your new home for winter before the big day. Make sure that your utilities are working and running. Also, bring drop clothes, tarps, or rags to protect your new floors from any slush or salt that could be tracked in.
While it may seem more difficult in to move in winter, it can be just as enjoyable as moving during the summer.
If you are looking for a Connecticut moving company, call or visit Braun's website to get your FREE quote today!
---
Tags: Moving Tips, CT Packers and Movers, Local Moving in Connecticut, Local Movers.
---
Back to Blogs