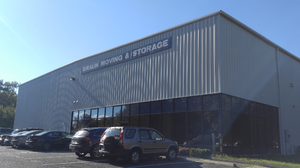 How do I find a reputable moving company?
Posted on Jun 16, 2021
Making a move from your existing home and location to a new one can be very exciting. A chance to create a new home with new things, or find new ways of displaying the items that might have been in your old house can be quite exhilarating. Moving, however, does not come without some serious stress. While many homeowners decide to make a move on their own with just the help of some friends and some pick-up trucks, in many cases and especially for cross-country or long-distance moves, hiring a reputable moving company might be the preferred way to go.
Unfortunately, it seems that the media really latches on to stories about moving company horror situations. We've all heard the stories about homeowners arriving at their new home and then the moving truck never arrives – ever. There are plenty of stories too about homeowners opening their supposedly professional packaged items to find everything broken inside. All of this is not to mention the unfortunate situations where precious jewelry somehow just disappears during the moving process.
Thankfully, those unfortunate situations listed above are not the norm. We hear about these bad scenarios frequently only because they make for interesting news stories, and not because this is how most moving companies operate. In reality, most moving companies are managed by good people who will work with you to ensure your move goes smoothly and successfully.
How to find a professional moving company
To make sure that you hire a reputable company and don't find yourself in one of the aforementioned headlined articles, be sure to do your homework. Here are some recommendations of steps to take when seeking a professional mover.
Conduct online research – There is no shortage of potential options to help you with your move. Though you may find yourself inundated with the number of options you come across, starting with the internet is a great approach. Use Google or another well-known search engine to locate multiple movers in your community or surrounding area. If you're moving long-distance, you may want to consider searching for national van line companies. Create a semi-short list of your top five to seven moving companies by making a note of the services they offer and in what areas. This approach will ensure that you don't add movers to the list that can't get you where you need to go, or don't offer any customization that you might be seeking.
Read customer reviews – In today's world of social media, it is easier than ever to find out what others might think of a product or company. Do some Google searches specifically for reviews of the companies that are on your list. Popular and well-regarded review sites include Google, the Better Business Bureau, Angie's List, MyMovingReviews.com, etc. Be sure to look for more than one review for each company that you have on your list, and take time to look at reviews that mention the same services that you are looking for. Try to find user reviews from people who have used these companies recently, as moving companies, like any business, are subject to leadership and management changes that can play a significant role in customer service practices. By taking a multifaceted approach to searching, you will be able to get a much better picture of who these companies are. Leverage this approach to narrow down your choices further – down to two or three.
Ask around – If you haven't done this already, compare your narrowed-down list with others that have made a similar move. This can be easy if you are relocating for a company, as it is likely that some of your future or former colleagues made similar moves. If you are moving into a new neighborhood with new construction, then it is very possible that the owners of other homes in your neighborhood used a moving service. Be sure to capture their feedback and make any adjustments to your list.
Conduct interviews – Once you are down to that final two or three, contact the moving company and arrange for an in-home estimate. Make sure that they are willing to come out to your phone. Most moving companies will provide an over-the-phone estimate, and this is an important service and a critical piece of information. But this step is more about understanding the costs – you want to see the company representative and have the opportunity to ask questions in-person. After the visit, the moving representative should be able to provide you with a more specific quote based on the inventory that they took during the walkthrough of your home. Ensure that the representative does a full walk-through, so you don't have any surprises whey they come to help you pack. This in-home moving estimate, different from that initial online or over-the-phone estimate, should very closely reflect the total anticipated cost of your move, and this is critical information for your budget, especially if you are paying for your own move.
Ask questions at the interview – If you have confusion or are unclear about anything in your moving estimate, take the time to ask questions now. Be sure that you do not wait until your move is final and completed and the costs are not refundable, and you find out that you will be subject to additional fees. The moving representative should be able to clearly explain any moving vernacular on the quote so that you are clear on what each item will cover for your move. Also, these estimates should be available to you at no cost. Moving companies know that they need to sell you on their services, so be sure to scratch off any companies on your list that will not come to your home to provide an estimate free-of-charge.
Do not hire the mover on the spot – As mentioned above, these moving companies want to sell their services to you, and for this reason, they tend to send representatives that are very good at closing the deal. But when moving, you are talking about your belongings – all of your earthly possessions. Do not feel tempted or forced to agree to the estimate when the representative is in your home. Take the time to complete interviews of your final two or three companies on your list, and then take time to compare the estimates. When making your final decision, be sure that you are considering more than cost. While everyone has a budget that they need to work with, you want to look at the combination of costs along with the services you are receiving. Then, narrow down to one, contact the company you have selected, and book your date.
Preparation for the big move
Now that you have made your decision, it is time to prepare for the big day. If you haven't done these things already, now is a good time to leverage this list of tips to make your moving day much easier. This will mean less likelihood of damaged items, and can potentially mean that your actual moving costs will be less than quoted.
Declutter – A move gives you the opportunity to get rid of items that you have collected over the years that you may no longer need or want. Take some time to purge in advance of moving day so that you don't have to pay to pack what you will not be bringing. Create three separate piles of items and then proceed by donating, selling, or discarding.
Inventory – Create your own inventory of items that the moving company will be taking care of after you have completed the decluttering process. Many moving companies offer inventory sheets that homeowners can use, so be sure to check with yours to see if this is available. If your moving company doesn't offer a checklist, Martha Stewart provides several great resources on her website. Make sure that your packing list outlines what is going into each box. Then, keep track of your belongings throughout the move and make sure you understand the labeling system used by the movers.
Kids and pets – Make a plan to take care of your kids and pets for the day(s) that the movers will be in your home packing or loading the moving van. If you have a young child or pets running around, you will be subjecting yourself to additional stress. Little kids and animals can get under the feet of the movers which can pose safety issues and can also slow down the process. Plus, kids have a knack for moving things around or seeing something in a box and not understanding why it is there, and thus removing the item. See if a friend or family member can take care of your kids or pets for the day.
The day of – Get yourself a few boxes for last-minute items that can't be packed before the actual day of the move. These items include a few articles of clothing, jewelry, toiletry items, important papers such as your moving checklist and inventory documentation, among others. Keep these boxes with you and separate from boxes that the movers will be responsible for. These day of the move boxes will save you time and money so that you are not running to the local department store or convenience store for underwear or a new toothbrush.
Don't make your move any more stressful than it needs to be. Proper planning and preparation, and partnering with a reputable moving company will help to ensure your move goes smoothly.
---
Tags: Movers in CT, CT Packers and Movers, Local Movers, Out of State Movers.
---
Back to Blogs