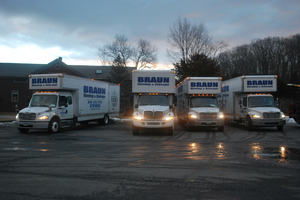 3 Tips for a Successful Office Relocation
Posted on Jun 22, 2018
An office move can be a distraction to everyone from employees to executives. As with any move, office relocation involves unknowns and unexpected hiccups that can derail the moving process. Now, the big question is, "how do you make the big office relocation a success?" From our experience, we've compiled the three best practices for office relocation. We want to help you anticipate any wrinkles in your plan and have action items to solve the problem. Preparation is key for any move, including offices. Here are our tips:
#1 - Assemble a Moving Team
This tip might be a no-brainer, but it's one you cannot skip or take lightly. Assembling the right team for relocation is crucial. You need a moving team (in case you run into a wrench in your plans) that is adaptable, reliable, and communicative. The moving team should be adaptable because, as we mentioned earlier, there's no telling what might go wrong, and your team needs to be able to roll with the punches. Some of those punches may include not anticipating in the number of things that need to move, not having enough man-power for the move, delays in moving… just to name a few. When the team is adaptable, it will be easier to find alternative ways to achieve the ultimate goal of moving in a timely and efficient manner. You'll also want your team to be reliable because there tends to be a common issue with moving - lost items. When you assemble a reliable moving team, you'll be able to rest easy knowing that the team has the company's best interests at heart. Finally, your team should be communicative. This one is essential! The key to a smooth office relocation is to keep communication open and clear, so the whole team knows exactly how the move will go and what to anticipate.
As far as who should be involved in the moving team, we suggest including representatives from each department so that the move is clear for everyone. The team should include the executives from the IT department, HR, Communication, Marketing, Facilities, etc. When every department is on the same page and working together, the move will go a lot smoother. Who doesn't want to make this move as smooth and seamless as possible?! Certainly not us! Get the team together that is ready to make your life easier and have open communication.
#2 - Keep Employees Involved in the Move
It might come naturally to you to only involve the executives and moving team, but we want to suggest involving the people who keep the company running - your employees! Let's face it, who knows what's needed in the office on a day-to-day basis better than the people who work there every day? Involving your employees in the move will help you to understand the necessities at your next location better. But now the question is, how do you involve your employees in the most effective way? Here are a few ways to involve employees in your office relocation:
Floor Plan Ideas - Give your employees a few proposed ideas for the floorplan in the new office. This will allow them to voice their opinions and help them feel heard and feel like they have a voice amid the relocation. All the while, you'll be getting direct feedback about your plans, and you'll still have time to make necessary adjustments to keep your employees happy after the big move.
Color Palette Options - This tip is a little more fun than most. Think about it, your employees will be in the office day in and day out, and you'll want them to feel comfortable in their new space. With that being said, we suggest allowing your employees to give their opinion so you can keep your employees happy and excited about the new office. *Pro Tip: Keep the options limited. We suggest proposing three-color palette options and let the employees chime in from there. When you allow for any suggestions, there will be too many cooks in the kitchen, and you may find yourself be overwhelmed with opinions.
New Office Tours - This can be done in waves, certainly not all at once. When you allow people to come to tour the new space, they'll feel included, and the overall morale surrounding the new move will remain at a high. A successful office relocation is dependent on how your employees feel about it. If no one wants to move to the new office, you'll be facing an uphill battle. Invite the employees to explore the office to enhance their feelings toward the change in office. Don't forget - change is one of the hardest things for most people, be sure to keep this change focused in a positive light.
New Office Pamphlet - What goes into this pamphlet? Easy - just a detailed outline of what to expect in the new office. Just like we mentioned, change can be really hard for most people. You don't want to catch your employees off-guard, so we suggest that you ease their nerves and show them exactly what to expect. This may include design intentions, protocols behind each space, and where you expect to house each department. This will hopefully take most of the anxiety out of the move so you can focus on the big picture rather than constantly answering varying questions from employees.
Address Transportation - Moving your office to a new location generally means that the commute will be changing for most employees. A change in commute may also raise a few eyebrows around the conference room table. Not everyone will benefit from the change in commute time or distance. The best way to tackle this is to be upfront and brief the employees on their transportation needs. For those who commute by transit, predetermine if transit will be easily accessible to the new office location.
#3 - Do Your Due Diligence
It is very important to do research to find the best moving company. There are plenty of professional moving companies out there, the question is, which one will be best for helping you and your company make a successful office relocation? Getting quotes from moving companies is a great diving point. You need a professional moving company that fits your budget. If they're going to charge you too much, there's no sense in doing any further research into that company. Here at Braun Moving & Storage, we offer free office moving quotes. When you're ready to get the ball rolling on researching different quotes, feel free to reach out to us for a free quote.
After you know the varying company rates, it's time to dive into reviews. Reviews are the best way to get to know how some of their past moves went. Let's be honest; you may find a moving company with an extremely cheap quote. But without researching and finding past customer reviews, you might be getting the same cheap valued quality of work. It's like they always say - you get what you pay for. So, in our opinion, you should be getting a lot of bang for your buck. Make sure your moving crew is of high quality and is going to provide you with the best service and customer service possible.
Finally, in your research, you should make sure your moving company specializes in office or corporate moving/relocation. There are plenty of professional moving companies out there, but they may only have experience in residential moving. Not that anything is wrong with specializing in residential moves, but for your needs, you'll need a company that understands what goes into moving an entire company from one space to another. The moving company needs to know how to communicate with your team and how to plan for the extensive move at hand. To view Braun Moving & Storage commercial moving services, visit our website.
All-in-all, office relocation can be unpredictable and complex. To consider the relocation a success, we ultimately suggest that you focus on the details and plan properly. Your plan needs to include an internal moving team, your employees, and a professional commercial moving company. When you have all of your details ironed out, you'll be ready to focus on making sure the move is physically smooth. Plan out routes to the new office, materials such as boxes or bubble wrap and plan out a time frame. While there are many details involved in your relocation, we hope that our tips will put you at ease and allow you to focus more on big-picture ideas for the business and the new office location.
Congrats on the big move! We hope it goes seamlessly, and ultimately, successful!
---
Tags: Movers in CT, CT Packers and Movers, CT Office Movers.
---
Back to Blogs