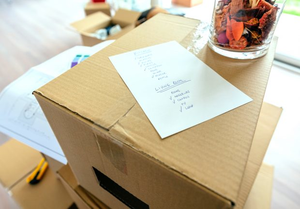 Your Checklist for Moving Out of State
Posted on Nov 28, 2018
Let's be real; moving can be challenging. That's why we've made a moving checklist to help you stay focused and take some of the stress away. We're here to help you get prepared so things will go as smoothly as possible. Of course, moving to a new place is also super exciting! With this guide, you'll be sure to have everything done in time for the big day, so you don't have to worry, you can celebrate!
Six weeks before the move:
Prepare early! Start shopping and getting all the supplies you'll need for the move. This means boxes, tape, bubble wrap, markers…etc.
Create a safe place to store all your essential documents, this can be done on Google Drive, and you can have hard copies. Examples include medical records, financial reports, and social security cards. You can also include receipts and quotes from the moving process.
If you have kids, find a school for them in the new location. Also, request their transcripts from their current school.
Talk to your place of employment and take time off for your moving day.
Make a budget! Moving can get expensive, and it's important to have a rough estimate of how much you want to spend.
Make sure that you have home-owners/renters insurance set at the new place.
Research medical services to use in the new location, such as a doctor, dentist, and vet.
4 weeks before the move:
Start planning for moving important or unique items.
Go through the big items you want to take, and if you need a storage facility, get one now.
If you have special or fragile items that you want to take extra care of, label the box it's in accordingly and keep an inventory list of it all.
Since you are going out of state, make travel arrangements for the route and where you'll stay.
Transfer or shop for entertainment services. Cable, internet, and phone installation will be important to ease the move transition.
If your furry friends, get them up-to-date on any vaccinations and medications. Have ID tags made for them and retrieve copies of their records.
Update voter registration, driver license, and utilities.
Three weeks before the move:
Pack, pack, pack! Be specific when labeling boxes. It's best to assign each box to a room of the house. A nice tip is to use your linens/socks as a packing cushion for fragile items.
Write all the inventory down onto a list.
Take photos of how electronics are set up in regards to their wiring, so when it's time to reconnect things, it's much easier. You can also label which wires go to which item.
The same goes for furniture that you are breaking down, label hardware in bags for easy reassembly.
Have a garage sale or donate items you want to get rid of! Use up the things you can't sell like bleach, foods, and aerosol cans. Dispose properly of flammable and toxic items.
Fix any small home repairs, especially if you live in an apartment.
Retrieve and return items, for example, library books, movie rentals, gifts, clothes from friends or dry cleaners.
Get all vehicles serviced. If you are shipping a car, don't forget to take everything out.
Schedule for a babysitter and pet sitter to help out for the day of the move.
Two weeks before the move:
There's nothing worse than realizing after you picked up that heavy couch that it won't fit through the door. Measure all doors, elevators, and stairs to ensure all furniture will slide through easily.
Drain liquids like oil/gas/water from all equipment. Have electrical appliances serviced for shipping.
Refill and transfer your prescriptions.
Back up all your files on your computer and phone.
Cancel your trash service and set up a service for the new home.
Cancel community memberships, such as the gym, and clean out any lockers you have.
Change your address for all of the following plus more: loan providers, credit cards, banks, checks, social security, auto insurance, and car registration.
Notify the Postal Service of your new address, as well as, loved ones and any subscription services you have.
One week before move:
Do a walkthrough of the home to ensure no item gets left behind.
Research what the weather will be like for the move and prepare.
Have a suitcase with everything you'll need for the first couple of days in the new home.
Clean up and fill holes in your current home. Don't forget to take photos of the empty space just in case you have to show it's in good condition to the landlord.
Take cash out for the move.
Unplug appliances the night before, water might leak from the fridge, so put a towel down.
Move Out Day
Today's the day! There has been lots of hard work and planning leading up to this day.
Rise and shine! Get an early start to the day, and make sure you are free all day.
Braun Moving & Storage has you covered. Our crews are highly trained and will help you every step of the way.
Before the arrival of the crew, make sure to put items you will be taking on your person in a separate area, and mark "Do Not Move."
Protect your floors and carpets during the move.
Any high-value items should be listed on your "High-Value Inventory Form." Check the inventory list to see if you agree with the notations made by the driver.
Do a final walk-through of the house and yard to make sure nothing has been missed once the loading is complete.
Turn off lights, lock windows and doors.
Confirm the address and directions with the driver and make sure they know how to reach you.
For move out day, keep some things with you!
It'll help to have a few items on your person during Move Out Day. Items like your cell phone, wallet, and keys should definitely stay with you. Other items include chargers, vehicle registration & car insurance, a spare tire, personal suitcases, toiletries, food/beverages, trash bags, first aid, and prescriptions/medications. If you have little ones, it helps to have toys, wet wipes, and diapers.
Can't decide if something should travel with our movers or be kept with you during the move? Just ask! We're more than happy to help and give you suggestions.
Move-In Day
Congratulations! Welcome to your new home. Here is a list of things you will want to do upon arrival:
Be present at your home to instruct the movers where you would like your belongings to be placed.
Check off the inventory numbers by having the driver call off the inventory numbers on each item. Then, mark them off on the inventory sheet.
The driver will set up your beds and reassemble furniture that was disassembled at the previous home.
When the movers leave the new house, unpack your bedding, shower curtain, and toiletries. That way you can take a nap after the move!
Introduce yourself to your new neighbors.
Head to the grocery store and stock up.
Last but not least, leave Braun Moving a review to let us know what you thought of our service!
Wow! That was a lot. But yay, you made it!
We hope that our moving checklist has been helpful! And as always, we love feedback. If we missed anything, let us know. Happy moving!
---
Tags: CT Packers and Movers, Long Distance Movers, Out of State Movers.
---
Back to Blogs