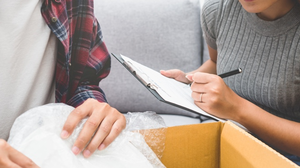 5 Things-To-Do After Moving to a New State
Posted on Apr 10, 2019
You've made it, congratulations! It's time to start settling in and making your new house feel like a home. Everything might feel new after moving, but the good news is we have a list of musts that need to get done. We're here to help you with a few easily forgettable action items. It's natural to want to jump into your new state and city and start exploring. Before you get to that, you need to take care of these to-dos so your exploring isn't interrupted with household chores. Here's our list of things-to-do to finalize your move.
Register your vehicle & transfer license.

If you haven't done so already, make sure to register your vehicle so you can explore the town as soon as possible. This should be done in person at the DMV office. Some states require you do this much quicker than other states, so be mindful of this to avoid any penalties. You should also be aware that you will not be able to register your car until you are also insured in that state. If your insurance carrier provides coverage in your new state, you're in luck! All you'll need to do is update your insurer about your move and get started on registering the vehicle. If your carrier does not provide coverage in your new state, there are few more steps you'll need to take before registering your vehicle. You'll need to begin the process of transferring over your insurance to a new provider. This requires canceling your previous insurance policy and starting new with a provider in your new state. Make sure you fill out all of the correct paperwork involved with setting up your account and make sure to keep a copy of each document, either a physical or digital copy will help you keep track. Once you have a new insurance policy, you can start the registration process in your new state.

Finally, you will need to apply for a new driver's license. In an ideal world, this will be completed while you're at the DMV registering your vehicle. It might shake out where you'll need to go to a new location to apply and take a new driver's license photo. If that happens, no worries! It'll allow you to start navigating around town. Once you are in the correct spot to apply for a new license, it's a simple process from there. All you need to do is simply fill out the application forms, pay the application fee, and viola - you're done! You'll have your new state driver's license in no time. It's official, you now have identification with your new home address on it.


Research new providers for your health & education.

Next, it's time to change your health insurance and search for a new physician! There are many resources for finding 'the best of the best' in medical. We suggest asking your former doctor for recommendations or use online resources like the American Medical Association. Another option would be to go directly to the local hospitals and have a conversation with a medical professional to get a feel for the establishment. For insurance, make sure you find an insurance policy that meets the needs of your family. If you know you'll need dental and vision insurance, make sure you find a provider that offers vision and dental insurance along with overall health insurance. You never know what's around the corner, so protect yourself with a well-balanced insurance policy. Once you've established an insurance policy, it's time to find a physician that accepts your provider. Like we said, ask around from locals you know and search through online resources. This is important because you'll quite literally be trusting your lives with someone new.

If you have kids, you'll be trusting someone new with your children's education. So now is the time to find a new school for them to attend. Start by locating the local school websites and create a list of possible school choices in your area. You can learn more about what each one has to offer through their websites and narrowing down what works best for your family. There are a variety of options for schooling, private school, public school, magnet school, virtual school and a variety of others. The question is, what's the best option for your children? There could be a few good options out there. Visit the schools' websites and look into reviews, whether the reviews are on Google or online resources such as Greatschools.org.


Unpack and Settle in!

Ah, now that the less-than enjoyable tasks have been taken care of, it's finally time to get settled into your new home. The goal should be to get everything unpacked within two weeks after your move. Why? You'll soon see it's hard to move into a new home and not have everything you're accustomed to, readily available. For this reason, we suggest unpacking the essentials first! This means clothes and toilet paper that will last for those 2-3 weeks it'll take you to unpack the rest of your things.

Fast forward two weeks and now all of your things are in place and around your new house. But now you have unwanted moving boxes or furniture lying around, now's the time to donate or sell. The sooner you declutter, the more relaxed and at home, you'll feel. Speaking of, make sure to give the carpets and chimney a good clean to keep your new home feel fresh and ready to be lived in.

Now for the good stuff, time to decorate your place and make it yours. We know it seems like a fast process to move into the new home, but let's face it, if you don't put the finishing touches on now, they may never get done. Don't wait to hang up your pictures, it will make a world of difference in easing into your new lives. It'll be bringing a little bit of familiarity into your new space.


Explore the new neighborhood & make friends!

One of the most exciting parts of moving to a new state is diving into all the local shops, cafés, restaurants, and other venues to see what your the town has to offer! Go to the local park with your kids or dogs to mingle with the locals, after all, a strong community is really what makes a town feel like home.

When you move to a new city and state, it doesn't take long to notice there's a whole new culture right outside your front door. Once you're fully moved into your home on the inside, it's now time to start making yourself feel at home on the outside too! In the beginning, it truly feels like you're a tourist in your new city and state, but once you take the time to get situated in your home & community, you'll soon become 'just one of the locals'. Take this time to do the quirky things that are "must-sees" and the "must-dos" in your town. We suggest starting by typing in "the top ten things to do in (new town/city)," into your search engine. You'll then have something to do for the next ten outings you have. Another idea is to take a food tour of the area. This is a great way to meet new people in your community and find your new go-to places to eat out!
Make copies of your keys.

Lastly, make copies of the keys to your new place and for any other members of the family, babysitter, dog walker – and just for safekeeping - you never know when you might lose them and you don't want to be out of luck! We also suggest making friends with your neighbors. Why? In an emergency or if you're locked out of your place, you'll have someone extremely close by at the ready to help you and let you back in, so it's always a great idea to give the neighbors you trust a copy of your key too. Having friends and family with an extra key is helpful when you're in a bind at work and you need someone to feed your pets or you need someone to turn off the stove after you've left ― let's be honest, we've all done that before! So, before you're completely ready to leave your home and travel around your new state, this is a must! It's safekeeping and overall a part of being a smart homeowner. Trust us, we have learned from experience.
And that's it! Phew!
Moving can be stressful, especially when it's moving to a new state. Now that you're here, we have you covered on the next steps. After everything is complete, we hope that you're loving your new space and feel right at home. We hope that this has helped ease your move and answered your "what now?" questions. If you used our service, we'd love it if you'd give us a review and let us know how we did.
---
Tags: Long Distance Movers, Out of State Movers.
---
Back to Blogs