Residential Movers
Pre-Move Tips
Moving Checklist
Two months prior to move:
Establish your move date.
Contact your Braun Moving personal move coordinator to begin the moving process.
Sort and purge. Go through every room and decide what you'd like to keep and what you can donate, sell or throw away.
Transfer school records. Arrange for dental and medical records to be transferred. Ask for referrals.
Six weeks prior to move:
If you plan to pack yourself, order supplies - tape, bubble wrap, packing paper, and markers. Contact Braun Moving for specialty boxes and crates.
Contact the utility company and transfer your services. Leave utilities on until the day after moving.
Transfer your driver's license(s) to your new town or state.
Finalize your living arrangements, home-owners/renters insurance at your new residence.
One month prior to move:
Finalize your move with Braun Moving. If you need storage, make arrangements with Braun Moving & Storage now.
If you have high-value or specialty items, call your personal relocation coordinator at Braun and we can send you a high-value inventory form.
If you're moving out-of-state, make any travel arrangements – including reservations for lodging.
Finalize your living arrangements. Collect important papers – wills, birth certificates, social security cards, car titles, medical records, financial documents and store in a separate, safe place.
Three weeks prior to move:
If you are doing your own packing, start now. Clearly label and number each box with its contents and its designated room.
Make arrangements for child care or pet sitting for the day of the move.
Set aside flammables to be moved by you or disposed of.
Call Braun Moving for packing tips and to purchase any boxes that may be needed.
Have your car serviced for the trip.
Two weeks prior to move:
Take pet(s) to veterinarian for immunizations
Drain oil and gasoline from power equipment. Drain garden hoses.
Review your move plans. Are you on schedule? Any last minute changes? If Braun is also unpacking, be sure to arrange this with your move coordinator.
Refill and transfer your prescriptions. Have electrical appliances serviced for shipping.
One week prior to move:
Go to www.usps.com to notify the Postal Service of your new address. Send change-of-address cards to friends, relatives and any subscriptions.
Arrange for newspapers and or other delivery services to be discontinued.
Defrost and dry refrigerator and freezer.
Pack suitcases with clothes, toiletries and jewelry.
Packing Tips
General Packing Tips
Here at Braun, we almost always suggest leaving packing to the professionals, but we understand and appreciate ambition as well.
Quick Tips for Packing
Use Packing Paper - Use plenty of packing paper. When packing any fragile items, the best way to ensure that it will arrive at destination safely is to make sure it's padded well enough that it cannot move inside of the box. Avoid using newspaper, however, as the ink has been known to rub off of the contents of the box.


Tape Properly - Boxes are designed to be put together in just one way – with tape. Interlocking box folds tend to be a very bad idea and commonly result in blown out bottoms. Running low on paper and/or tape? Ask your mover!


Heavy Objects First - Another important safeguard against damage is packing the heaviest objects into boxes first. When packing heavy items (books, files, CDs, DVDs, canned goods, silverware, tools, spices, desk supplies, small picture frames, photographs) use small boxes. They typically fill up before they become too heavy and also help prevent blown out bottoms. It's a good idea to stay under 50lbs a box.


Sharp Items - Take extra care when packing items with sharp edges such as knives or swords. Place them back into their sheath if they happen to have one. Otherwise, fold cardboard on the sharp edges and tape the cardboard together. Take the time to ensure they are completely wrapped so they can be safely unpacked upon arrival.


Label Your Boxes - Labeling will make for easier organization into your new location.
Items that CAN NOT be Shipped
Moving companies are prohibited from handling and moving certain items. We've compiled a general list of things that no moving company will ship.
Acids
Aerosols
Ammonia
Ammunition
Car Batteries
Charcoal
Charcoal Lighter Fluid
Chemistry Sets
Cleaning Solvents
Darkroom Chemicals
Fertilizer
Fire Extinguisher
Fireworks
Gasoline
Household Batteries
Kerosene
Lamp Oil
Liquid Bleach
Loaded Guns
Matches
Motor Oil
Nail Polish
Nail Polish Remover
Paint Thinner
Paints
Pesticides
Poisons
Pool Chemicals
Propane Tanks
Reloading Supplies
Scuba Tanks
Sterno
Weed Killer
We want to help make your upcoming move as STRESS-FREE as possible. We're here to help and give you any advice you may need. Still have more questions? No problem. Call the experienced moving specialists at Braun & they'll give ou all of the information you need! Call Braun Moving & Storage, will answer any questions you might have!
Move Out Day
Move Out Day
Today's the day! There has been a lot of hard work and planning leading up to this day. Here are some practical tips to help make the day go as smooth as possible.
Braun Moving & Storage has you covered. Our crews are highly trained and will help you every step of the way. If at any time during the move you have questions or concerns, contact your personal move coordinator.
Okay, let's get this done!
Make sure you are available the entire day of packing and loading.


Any high-value items - antiques, works of art, furs, etc - should be listed on your "High Value Inventory Form" which you can request from your personal move coordinator.


If packers are packing the high-value items, be available to view the packing. Money, jewelry, coins, etc. cannot be packed.


Check the inventory to see if you agree with the notations made by the driver as to the current condition of your furniture at the end of the inventory process. If you see a discrepancy, please review the inventory sheet with the driver.


Prior to the arrival of the packing or loading crew, make sure to keep items you will be taking with you in a separate area, or marked "Do Not Move" so the crew does not pack or load them.


Do a final walk-through of the house, garage and yard to make sure nothing has been missed once the loading is complete. Don't forget to check drawers, cabinets, and closets!


Turn off lights, lock windows and doors.


Confirm the destination address and directions with the driver.


Make sure the driver and your move coordinator are aware of how to reach you en route and at your destination.


Keep some things with you!
It'll help to have a few items on hand during Move Out Day. Items like your cell phone, wallet (Cash, Credit Cards, & License!), and keys should stay in your pockets or purse during the move! It's nice to have certain belongings easily accessible as you move into your new home.


In Your Car, Make Sure To Have:
Cell Phone Chargers
Vehicle Registration & Insurance Car
Fix-a-Flat (Just in case!)
Flashlight
Suitcases containing clothing & valuables
Toiletry Kit
Snacks/Beverages
Trash Bags
First Aid Kit
Prescriptions/Medications
Pet Food, Toys, & Water/Dishes
Small Houseplants

Though Move Out Day is very exciting for you, your little ones might get restless. If you're traveling with young children, we suggest having the following items on hand:
Toys
Snacks/Cooler with food & drinks
Pillows/Blanks
Paper Towels
Wet wipes or moistened towelettes
Change of Clothes
Diapers

Can't decide if something should travel with our movers or kept with you during the move? Just ask! We're more than happy to help and give you suggestions. Congratulations on your move!
Move In Day
Tips for Move In Day
Congratulations and welcome to your new home. Here is a list of things you will want to do upon arrival:
Have someone present at your home to instruct the professional movers where you would like your furniture and belongings placed.


If you've moved out-of-state or internationally, please check off the inventory numbers by having the driver call off the inventory numbers on each box and piece of furniture. Then, mark them off on the inventory sheet.


The driver will set up your beds and reassemble items that were disassembled at your previous location*


If you have pre-arranged for Braun Moving & Storage to unpack certain areas, the packers will remove all boxes and paper.
*This does not include hanging pictures or other permanent wall fixtures.
FAQ's
General Moving FAQ's
When should I make an appointment for an initial evaluation of my move?
6-8 weeks before you move. The timeframe it will take to move you will also be determined at the evaluation.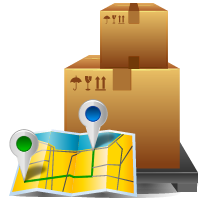 How long does the initial evaluation take?
Typically between 30 minutes and 2 hours, depending on the size of your home.
What should I do during the pack-up?
Be present during the packing of your belongings.
Take personal responsibility for all high value items.
Check and sign the inventory list.
Make sure that no prohibited items are packed. Ask your mover for a Customs sheet.
Am I protected under against loss or damage?
Under the terms of the Uniform Household Goods Bill of Lading (the receipt for your goods and part of the transporation documentation given to you by Braun Moving), you may choose from our "Full Value" plan or the "Basic" plan.
International Moving FAQ's
Can I bring my car to another country?
The import duty on cars in some countries is so outrageous that you may not want to import it. Others will have special regulations regarding emission controls or even have rigorous steam cleaning requirements. Inquire into the specific country you will be moving to.
Can I bring my pet(s)?
Plan this well in advance. Travel is often difficult for pets, however quarantine regulations can be the most difficult issue in some countries. Every country has its own regulations regarding the importation of pets (especially birds) so make arrangements well in advance.
Anything I absolutely cannot bring?
Of course drugs, alcohol, weapons, ammunition, and pornography.
Can I pack myself?
Sure, however, insurance companies will not pay out on goods packed by their owner. Also, Customs officials will almost certainly target goods that you have packed. If you must pack some of your goods, leave the carton unsealed.
How long will it take to move me to another country?
Freight: allow up to 14 days door-to-door, however remote areas may take longer.
By sea: Europe/USA - 4/6 weeks, Asia/USA - 6/8 weeks and Australia/USA - 8/12 weeks
What happens when my inventory arrives in the other country?
The destination agent chosen by your move will contact you as soon as your shipment arrives. The company will clear it through Customs, take care of the paperwork and make sure everything gets delivered to your new home. You may need to be present if your shipment is inspected by Customs. As soon as you arrive at your destination country, contact the appointed agent and make delivery arrangements.
Glossary Of Moving Terminology
GLOSSARY OF MOVING TERMINOLOGY
ACCESSORIAL (ADDITIONAL) SERVICES - Services such as packing, appliance servicing, unpacking, or piano stair carries that you request to be performed (or are necessary because of landlord requirements or other special circumstances). Charges for these services are in addition to the transportation charges.
ADVANCED CHARGES - Charges for services not performed by the mover but instead by a professional, craftsman or other third party at your request. The charges for these services are paid for by the mover and added to your bill of lading charges.
BILL OF LADING - The receipt for your goods and the contract for their transportation. It is your responsibility to understand the bill of lading before you sign it. If you do not agree with something on the bill of lading, do not sign it until you are satisfied that it is correct. The bill of lading is an important document. Don't lose or misplace your copy.
BINDING/NON-BINDING ESTIMATE - A binding estimate is an agreement made in advance with the mover that guarantees the total cost of the move based on the quantities and services shown on the estimate. A non-binding estimate is the carrier's approximation of the cost based on the estimated weight of the shipment and the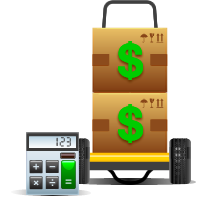 accessorial services requested. A non-binding estimate is not binding on the carrier and the final charges will be based on the actual time or weight and tariff provisions in effect.
BULKY ARTICLE - Some articles included in a shipment (i.e. automobiles, boats motorcycles, hot tubs, etc.) need extra labor and extra handling and/or blocking required to load bulky items of this nature. Tariffs provide a schedule of extra charges for such articles.
CARRIER - The mover providing transportation of your household goods.
C.O.D. - Transportation for a individual shipper for which payment is required at the time of delivery at the destination residence (or warehouse).
CUSTOM SERVICE PACKING AND UNPACKING - Individual per carton rates that apply when the carrier is requested by shipper to pack or unpack the shipment. The custom service packing rates include cartons and packing labor.
EXPEDITED SERVICE/SELECTED DELIVERY DATE SERVICE - An agreement with the mover to perform transportation by a set date in exchange for charges based on a higher minimum weight or number of hours.
EXTRA LABOR - Hourly labor charge for providing any requested services for which specific fees are not published. This generally covers activities such as taking up tacked down carpeting, packing owner's furnished containers, etc.
EXTRA PICKUP OR DELIVERY - Linehaul/transportation charge includes pickup from a single address and delivery to a single address. Additional charges are assessed for each stop or call requiring an additional pickup or delivery.
GAUARANTEED PICKUP AND DELIVERY SERVICE - An additional level of service where-by dates of service are guaranteed, with the mover providing reimbursement for delays. This premium service is often subject to minimum hours or weight requirements.
INVENTORY - A detailed descriptive list of your household goods showing the number and condition of each items
ITEMS OR EXTRAORDINARY VALUE (HIGH VALUE ARTICLE) - A items included in a shipment that are valued at more than $100 per pound. Carrier will have you fill out a high value inventory form to list these items to ensure they are protected accordingly.
LINEHAUL CHARGES/TRANSPORTATION - Charges for the basic transportation portion of your move. These charges apply in addition to the additional service charges.
MOVER'S VALUATION BROCHURE - Your mover will give you their brochure to explain what you must do and what it will cost to place a value on your house-hold goods shipment
ORDER FOR SERVICE -The document authorizing the mover to transport your household goods.
OVERTIME LOADING OR UNLOADING - If you request loading or unloading on a specific date which is a Saturday, Sunday or Holiday, an overtime premium charge, based on the size of your shipment is assessed. This is also true if you request the service to be performed after working hours (lee. between 5 PM and 8 AM
PEAK SEASON RATES - Higher linehaul charges that are applicable during the summer months.
PICKUP AND DELIVERY CHARGES - Separate transportation charges applicable for transporting your shipment between the SIT warehouse and your residence. SHUTTLE SERVICE -use of a smaller vehicle to provide service from/to residences that are not accessible to the mover's larger equipment.
STORAGE-IN-TRANSIT (SIT) - Temporary warehouse storage and handling of your shipment pending further transportation, for example, if your new home isn't quite ready to occupy. SIT service may not exceed a total of 180 days of storage, and you will be responsible for the added charges for SIT service, as well as pickup and delivery charges.
TARIFF - The mover's required, published price list of rules, regulations, rates and charges for the performance of interstate moving services.
VALUATION - The dollar value placed on a shipment by the shipper that specifies the carrier's maximum liability in the event of a cargo claim for loss or damage.
WEIGHT ADDITIVE - Some articles included in a shipment (i.e. camper bodies, boast, canoes, etc. are comparatively light and occupy space in the van that is not commensurate with their weight. For instance, one might load 4,000 pounds of furniture and cartons in the space taken by a 1500apound boat. To compensate for the light weight, Tariffs provide a schedule of additional weights for such articles.